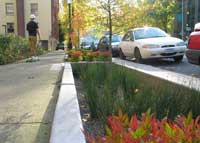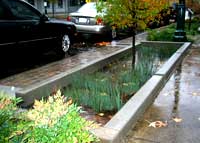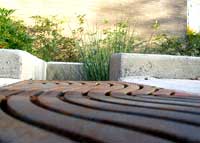 Green Streets Portland, Oregon
Trigger
1. Manage stormwater runoff both at the source and the surface.
2. Use plants and soil to slow, filter, cleanse, and infiltrate runoff.
3. Design facilities that aesthetically enhance the community.

Effect
* traffic calming
* increases livability
* increases community involvement


Other Benefits
* recharges groundwater supply
* stormwater harvesting for reuse
* reduces runoff volume
* cleans automobile drips of hydrocarbons and other pollutens (bioremediation)
* stores large volume of water


Managing stormwater runoff from the street through vegetated planters for flow and water quality benefit. A green street retrofit which manages stormwater at the source through a vegetated swale, while enhancing the neighborhood.

Stormwater Facility Science
The surface area of a typical stormwater facility allows runoff to pond and evaporate while sediments settle into a layer of mulch. The organic mulch layer prevents soil bed erosion and retains moisture for plant roots. It also provides a medium for biological growth and the decomposition or decay of organic matter. The soil stores water and nutrients to support plant life. Worms and other soil organisms are very good at degrading organic pollutants, like petroleum-based compounds. They also help mix organic material, increase aeration,
and improve water infiltration and water holding capacity. Bacteria and other beneficial soil microbes process the majority of pollutants, including most of the nitrogen. The stiff structure of plants such as rushes and sedges slows water passage and traps sediments within the surface area of the facility.


Mt Tabor Middle School
This summer, the City will build stormwater management facilities at the school and on SE 57th Avenue just south of Pine Street. The project will feature a raingarden, infiltration planters, and a stormwater curb extension. Over the last year, Environmental Services has worked closely with Portland Public Schools and the Portland Office of Transportation to design these facilities. The new systems will dramatically reduce the amount of runoff draining to the sewer, and reduce the risk of sewer backups in homes on Pine Street. These attractive facilities
are designed to improve the school grounds and the urban environment, in addition to managing runoff.

SW Hillsdale
Construction is completed on two water quality planters in downtown Hillsdale in southwest Portland. The planters will treat stormwater runoff from 20,000 square feet of SW Capitol Highway. Runoff will enter the planters through curb openings and filter through soil to remove pollutants. The filtered water will flow into a storm sewer that drains to Fanno Creek. Each planter will have shrubs to improve their appearance, provide root structure to help maintain soil infiltration, and create habitat for soil organisms that help break down pollutants. The City will evaluate these planters, along with another design installed at New Columbia in north Portland, for potential use at other locations.

SW Texas
This summer, the City will build stormwater facilities along SW Texas Street to treat, detain and dispose of drainage from 17-acres bounded by SW California Street, SW Nevada Court, SW Capitol Highway, and SW 26th Avenue. The project will consist of a combination of conventional
stormwater conveyance systems and stormwater swales to manage runoff from roofs, driveways, and streets.

This project is the City's response to a citizen-led initiative. This flexible, innovative project meets the needs of the neighborhood,helps meet regulatory requirements, and improves quality of life. The completed green street improvements will direct runoff away from homes and backyards, alleviate basement flooding, and reduce street erosion. The project will also protect
the City's sewer infrastructure by managing stormwater that contributed to problems downstream in the Burlingame sewer.

NE Fremont and 131st Place
This project is the first in Portland to manage street runoff and accommodate a ramp crossing for pedestrian safety. The City removed 400 square feet of asphalt on either side of the pedestrian ramp and installed a variety of plants. Stormwater enters the vegetated area on the
west side through a curb cut and flows under the ramp to the vegetated area on the east side. The soil and vegetation slow runoff flow, filter sediments and pollutants, and allow the stormwater to soak into the ground, which reduces the burden on the combined sewer system and recharges groundwater. This was a collaborative project between Environmental Services and the Portland Office of Transportation. The two bureaus will team up on future projects to manage stormwater runoff, protect pedestrians and increase neighborhood livability.

Housekeeping
Maintenance Policy Development
Because the number of Portland green streets is increasing, the City is drafting a formal green street maintenance policy to ensure facilities have long, productive lives and to let property owners and neighbors know what their responsibilities are. The main responsibility is simple maintenance. Neighbors and property owners should keep litter, brush and trees out of the green street facility, and shouldn't stack or store anything in it. All other maintenance will be conducted by the City.

Owners would be responsible for items needed to maintain the facilities such as yard debris bags
and tools. The draft policy also recommends sending regular green street update letters or flyers to property owners and neighbors. The City wants to make sure that as new neighbors move in, they learn about their neighborhood green street and their maintenance responsibilities. We also want neighbors to know when city scheduled maintenance has occurred at a facility.

Testing
Gathering performance information on green streets and other stormwater management facilities is an important part of Portland's Sustainable Stormwater Management Program. The City uses the information to determine which designs work best in specific locations to help plan and design new green street projects. So far, the City has tested the NE 35th and Siskiyou green street and the Glencoe Rain Garden. Tests at NE 35th and Siskiyou show the facility
cuts peak stormwater flows to the sewer system by an average 85% and that it captures and infiltrates all the stormwater during most rain events. The test shows the facility is effectively doing what it was designed to do, reduce residential basement flooding.

The City built the Glencoe Rain Garden at SE 51st and Morrison in response to a severe basement sewer backup problem on a residential street. Stormwater runoff from 35,000 square feet of asphalt flows into the rain garden. The facility captures all the runoff from small rain events and it reduces peak flows by an average 80%. Tests on green streets at SE 56th and Ankeny and SW 12th and Montgomery showed both facilities are meeting expectations. The tests also indicated the need for some simple design modifications to make the facilities more effective. This spring, the City will do more tests including the stormwater curb extension
at NE 131st and Fremont.

References

*images above from SW 12th Avenue Green Street Project,
Portland, Oregon
Kevin Robert Perry, ASLA,
Sustainable Stormwater Management Program
, City of Portland, Oregon
http://www.asla.org/awards/2006/06winners/
Environmental Services City of Portland, Green Street News Projects around the city
Green Streets Tour Map